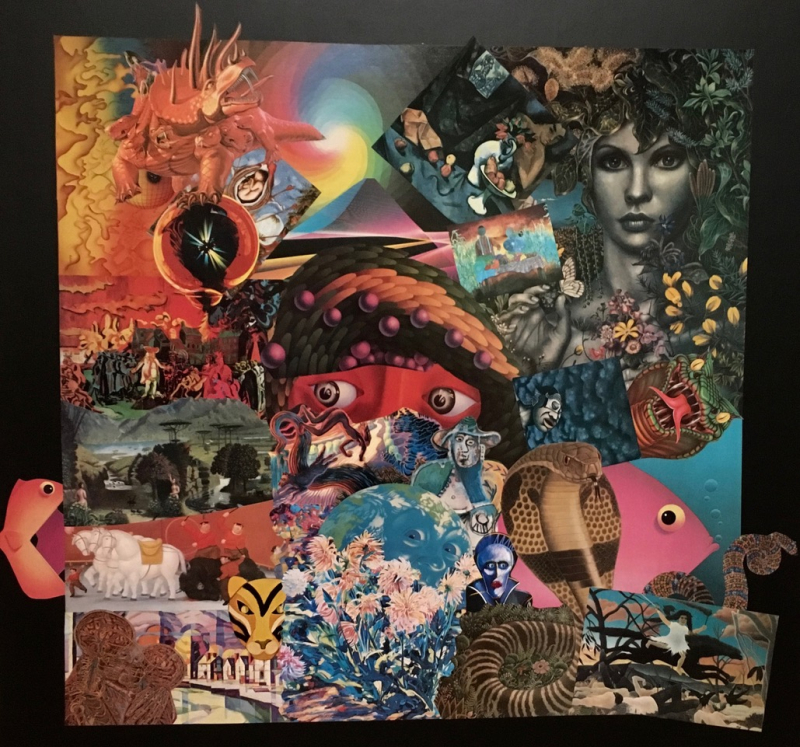 PAD 13 - The Art of Collage
with Suzy Ferriss
$27500
Inspired by such masters as Matisse and Picasso, students will be taken through the collage process, beginning with basic painting and drawing techniques, followed by composition and assemblage. Methods include photomontage, cut paper collage, assemblage, and fabric collage. 
Supply List:
Pad drawing paper (suitable for both dry and wet media) approx. 14" x 17"
Bristol Board Pad, medium finish recommended, approx. 18"x 24" 
Assorted drawing pencils (4B, 2B, HB, 2H are recommended)
Assorted erasers (kneaded, art gum, and Pink Pearl are recommended)
Pencil sharpener
Acrylic paints (or some other kind of quick drying paint such as watercolor or gouache). You'll need white, black, plus an assortment of colors (red, blue, yellow, green, orange, and violet recommended)
Brushes suitable for your paint, both rounds and flats, assorted sizes from small detail to 1" recommended
Various sized plastic containers for water and paint
Disposable palette pad, plastic palette, or paper plates for mixing paints
Cotton rag or paper towels
Several sheets thin cardboard (file folders work well)
Ruler (cork backed recommended)
Scissors
Tape such as Scotch Magic tape, painter's tape, and/or masking tape
Glue (glue stick and white glue such as Elmer's)
Magazine(s) with interesting imagery
Clean white scratch paper such as computer paper
Items for collage such as photographs, postcards, maps, sheet music, light weight textures, fabrics, ribbons, advertisements, stationary, decorative papers, paper scraps, cardboard, old drawing or painting projects, wood scraps, etc. etc. Basically anything that can be cut up and adhered with glue.
The following are optional but useful:
Xacto knife with blades
Hot glue gun
One sheet nicer paper, approximately 18" x 24" or larger (Make sure heavy enough to support collaged materials.)
Other possible media: Charcoal (1 stick of vine or compressed, or 1 charcoal pencil), Conte crayon (white, brown, black recommended), Black India ink (for drawing, not mechanical pens. If using India ink, you will also need pen staff and assorted pen points. Can be purchased in kit. Make sure for drawing, not lettering) and brush suitable for ink, dry colored medium such as pastels, colored pencil, oil pastels, colored markers, 1 black fine point sharpie marker,
Tracing paper
Graphite paper
Assorted brushes such as house painting brushes, toothbrushes, inexpensive house painting brush, etc.
Any additional media or materials which you would like to work with and/or incorporate into your work.
You can order all supplies and have them ready for you at your class on the first day by ordering from Binders! Art of Collage supplies available here: https://bindersart.com/supply-lists/11767-callanwold-art-of-collage-with-suzy-ferriss.html
About the Instructor:  Suzy Ferriss is a multidisciplinary artist who has worked in the fields of drawing and painting, puppetry theater, filmmaking, photography, and writing. She currently teaches a variety of art classes that include drawing, acrylic painting, abstract painting, watercolor, color theory, and collage. Ms. Ferriss has been the recipient of numerous grants and awards towards her work and has participated in both group and solo exhibitions in the U.S. and in Europe.
Sep

4

-

Nov

13th

,

2019

Wed

for

11 weeks

from

12:00 - 2:00 pm
Carriage House, Ground Floor
980 Briarcliff Road Northeast
ATLANTA, GA 30306 Get directions
Room: Painting/Drawing Studio 1