Filter by Category
Writing
WRI 01 - Advanced Memoir - Finishing Touches
with June Seese

Jan 14, 2020 at 7:30 pm

, runs for 8 weeks
Class for students who have completed two sessions of the Advanced Memoir Seminar at Callanwolde Fine Arts Center.  Students will read and discuss matters of structure, setting, and publication of memoirs. Participation subject to instructor approval.
About the Instructor:  June Seese is a recipient of a 2001 Yaddo Writer's Fellowship. She has written two novels: Is This What Other Women Feel Too? and What Waiting Really Means. She has also written a collection of short fiction: James Mason and the Walk-In Closet. All are published by Dalkey Archive Press. Mrs. Seese has taught writing at Callanwolde Fine Arts for the past 20 years.
Payment plan available: $75 deposit plus 1 payment of $85.00, paid monthly.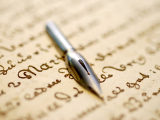 WRI 02 - The Poetry Workshop
with Memye Tucker

Jan 25, 2020 at 10:30 am

, runs for 4 weeks
Poetry Workshop consists of four intensive meetings open to all levels with vision and revision to help you find the poems only you can write and prepare them for publication and readings. Study of craft with critique and in-class writing.  Adults only.  For opening discussion, please send one or two poems to mc@tucker.net by Jan. 17th and bring eight copies of each to the workshop.  Please note the class does not meet on consecutive weeks.  
About the Instructor:  Poet Memye Curtis Tucker, Ph.D, is the winner of national book and chapbook prizes, multiple awards and residency fellowships, former Sr. Editor, Atlanta Review, with poems in Poetry Daily, the Southern, Colorado, Georgia, and Oxford American Reviews, and Prairie Schooner, among others, featured abroad in translation, and set as art song and artist book.
Full Course